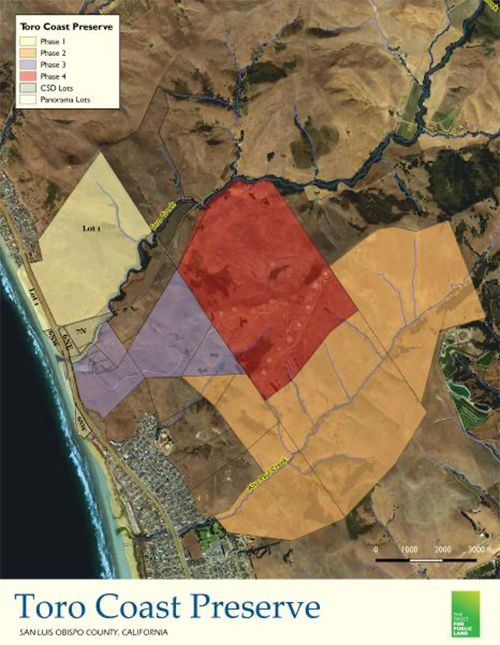 The Toro Coast Preserve is a breath-taking place along the Central Coast of California about 40 miles south of Big Sur next to Morro Bay. Our aim is to create an undeveloped playground for passive outdoor recreation perfect for hikers, bikers, birdwatchers and nature-lovers of all kinds.
This is a project in progress to convert thousands of acres owned by Chevron into conserved open space. The area to be conserved has been divided into 4 large parcels that will be acquired in phases.
This project is huge. It could take many years to achieve, but it will happen sooner if we all put ourselves into the effort.
At the end of March 2021, MBOSA  sponsored a Zoom webinar on the finishing pieces of Phase 1, plus an explanation of the City of Morro Bay's plan to expand its Sphere of Influence into the Panorama Lots that lie above North Morro Bay (currently open space grazing land owned by Chevron, with the lower lot lines at the City boundary).
You can see this Expert Panel webinar here:  
Toro Coast Preserve and the Panorama Lots.
Phases of Toro Coast Preserve
The map shows the 4 parcels in colors that correspond to the 4 phases of acquisition. The light yellow is Phase 1; Phase 2 is the light orange parcel on the southern boundary; Phase 3 is in purple; and Phase 4 is the dark orange inland parcel.
Some Very Good News .... Phase 1 is almost done.
The locals' favorite, Dog Beach, where dogs and owners run free to mingle, will become part of Morro Bay with the promise to keep the space a leash-free zone. Along Highway 1 on the west side of the highway, there will be an easement for a connector trail between Morro Bay and Cayucos just to the north.
The open space between these towns will NEVER be developed. That's because this Phase includes a 200+ acre parcel called "Lot 1" on this map, which has already been purchased and will not be developed.
The rest of this Phase will be close during 2021.
On to Phase 2!
We're setting our sights now on Phase 2. Look at the western point of this parcel: it abuts Morro Bay at Del Mar Park where Alva Paul Creek flows through the town. There is a perfect trail location along the creek, which will be easy to access after some remediation.
Join us to help make this open space dream a reality.