Larry L Hillblom Foundation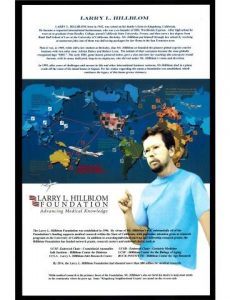 The Larry L Hillblom Foundation is the single largest donor to the Morro Bay Open Space Alliance campaign to create a conservancy on Eagle Rock. The Foundation gave the fund raising campaign its first big boost at the September 2017 event, with a $25,000 donation. In two subsequent contributions, it gave another $60,000 for a total of $85,000. This amounts to over 30% of the total needed to achieve the goal of $265,000.
As directed by Larry Hillblom's will, the majority of the foundation's grants are awarded to support medical research, with a focus on curing, treating, and managing diabetes mellitus, and chronic and degenerative diseases associated with aging. The grants are generally awarded to support research at the University of California institutions (Hillblom got his law degree from UC Berkeley).
ABOUT THE FOUNDATION:
Larry L. Hillblom, the co-founder of DHL Worldwide Express, who became a respected international businessman, grew up on his family's farm in Kingsburg, California. After high school he went on to graduate from Reedley College, attend California State University, Fresno, and then earn a law degree from Boalt Hall School of Law at the University of California, Berkeley. Mr. Hillblom put himself through law school by working at numerous jobs; one of them was delivering packages for law firms in the San Francisco area.
Thus it was, while still a law student at Berkeley, that Mr. Hillblom co-founded DHL with two other men, Adrian Dalsey and Robert Lynn. (The initials of their last names created the business name, "DHL.") Mr. Hillblom's success in building this company into the world's largest global air courier service later allowed him to help rescue Continental Airlines from bankruptcy. Eventually he established a home in Saipan, of the Northern Mariana Islands, in the South Pacific. Until his death in a plane crash near Saipan in 1995, Mr. Hillblom had either founded or invested in numerous other business ventures and had acquired real estate holdings worldwide.
He also served with distinction as a Justice on the Supreme Court of the Commonwealth of the Northern Mariana Islands. At the same time, moved by the widespread suffering he encountered on his travels, Mr. Hillblom often donated substantially to the underprivileged, such as bringing medical personnel to Saipan and Vietnam to address the needs of cranially damaged children.The Larry L. Hillblom Foundation was established in 1996. By virtue of Mr. Hillblom's will, substantially all of the Foundation's funding supports medical research within the State of California, with particular attention to research programs conducted by the University of California.
The Board of the Larry L. Hillblom Foundation has assigned its initial medical research priorities in efforts toward curing, treating and managing diabetes mellitus, and chronic and degenerative diseases associated with aging, with a primary focus on brain and vision disorders.